Following is a list of some of the activities and attractions you can find in our part of the beautiful Laurel Highlands. It is by no means a complete list but I have tried to include the main highlights and give you a general idea of different options available to you.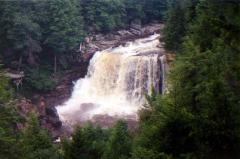 Hike along our Wild and Scenic river; the Youghiogheny
Horse back riding is a great way to see the scenery.
Rent a bike for the day! Or bring your own; the Great Allegheny Passage bike trail is just across the river from our house.
Maybe mountainbiking is your cup of tea